Creator/contact
Jamie Anderson.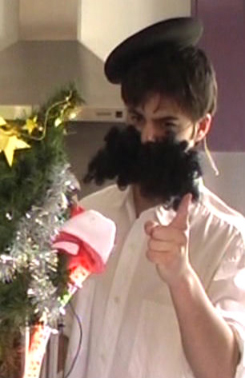 Jamie Anderson is a super serious Australian person from Australia. He was born in in a hospital during the International Year of Peace (not the 2004 one) and is still alive to this day!
Jamie learned to read from Ninja Turtle comics when he was tired at looking at/trying to copy the pictures and first seriously committed to drawing comics when he was thirteen and has been posting them online since 2001 after he saw other people do it.
The fancy Adventures of Jack Cannon is the forth comic Jamie has worked on, the other three being: Jamie and Nick, which he also co-wrote with a friend (surprise his name is Nick!) and it contained maybe every comic cliché ever,
The Destructive Tendencies of Us, a very short lived gag-a-whenever comic that recycled the characters from his previous comic.
Finally he was the first artist for Banished! Which was written by Ryan Smith and is currently on hiatus because artists are fickle people.*cough* stillsorryaboutthatryan*cough*
Jamie is also from time to time an animator, and has most recently worked on two seasons of a kids show called Pixel Pinkie.
When Jamie isn't drawing Jack Cannon and referring to himself in the 3rd person, he spends most of his free time quietly being unemployed and freaking out about it.
You can contact Jamie at, get this: jamie(at)fancyadventures.com